New Holland Cruelty Case

New Holland
April 24, 2000
A pony mule was found in pain due to a severe case of founder. Sources, along with a known horse dealer, have reported that the mule was brought in the night before the Monday horse auction. The mule continuously shifted her weight and was in very obvious discomfort. Numerous people attending the auction Monday morning stopped to observe her condition. The veterinarian working at the auction did not examine or care for this mule until a kind individual contacted the police department. Both the New Holland Police, and the PA State Police responded. The mule was examined and the State Trooper photographed the mule. The veterinarian's initial position was that she was fit to travel. A short while later, the same vet was found in an alley putting the mule down.
Why did the vet change his mind? Why didn't he do the right thing upon first examining this animal in pain? Why did auction personnel accept this mule for sale? Why did auction personnel ignore this poor animal and not call the vet the night she was brought in? When will the owner, who transported the mule in this debilitated condition, be brought up on cruelty charges?
UPDATE: The New Holland Police Department filed charges against James Barbini of Wilmington, DE. In court on June 13, 2000, Barbini entered a guilty plea. He was forced to pay $125.50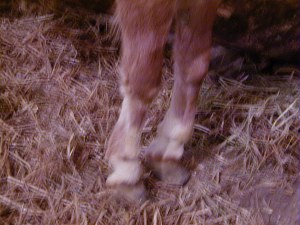 Mule standing prior to sale. Close up of forelegs.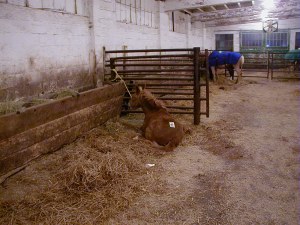 Mule down shortly after being brought in. Note - hip tag was placed on this debilitated animal, which clearly indicates the auction accepted this animal onto the premises with the intent to sell.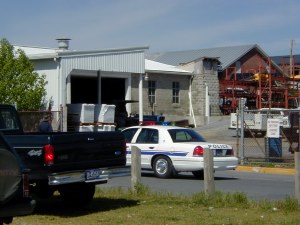 New Holland Police responding to the scene.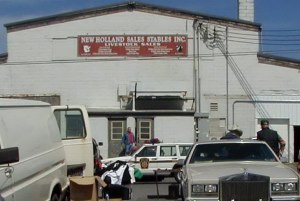 Pennsylvania State Police responding to the scene.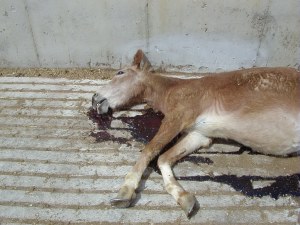 After much discussion this is the outcome.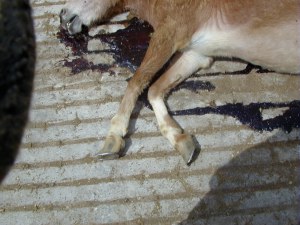 Note - the shoes are on backwards.
Please report all cases of animal cruelty to auction personnel or local enforcement.