New Holland Sales Stables

Touted as "The largest public horse auction this side of the Mississippi".
New Holland Sales Stables, Inc.
101 West Fulton Street
New Holland, PA 17557
(717) 354-4341 tel
(717) 355-0706 fax
Every Monday, regardless of weather or holiday, horse sales are held.
8:00 a.m. - tack
10:00 a.m. - horses
Special Sales are scheduled periodically, please call the auction for further information.

New Holland Sales Stables, Inc. is located just minutes off the Morgantown exit of the Pennsylvania Turnpike. Then take PA-10, right onto to PA-23 to Railroad Avenue. Turn left down Railroad Ave and go over railroad tracks. Make a right onto Fulton. Parking lot is on the left and the auction is on the right.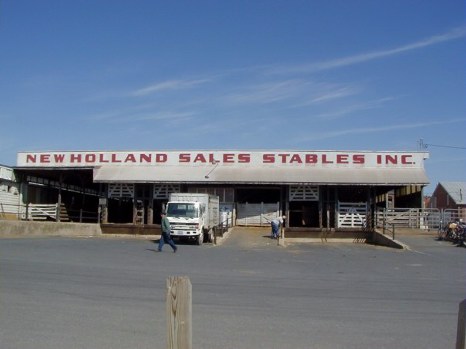 Loading dock for horses.
If you are planning on attending this auction, and would like assistance, you may contact us through this form, stating your purpose for going and providing us with a date. If we are not available on your specified date, we will make reasonable attempts to network and find a reputable organization to escort you.